FLUIDIZED THERMAL SAND BED CLEANING
Fluidized Sand Bed Stripping in the Midwest
Winona operates one of only a few Dinamec Fluid Systems sand strippers located in the Midwest that is available to outside companies with parts, racks, or mold cleaning needs. In addition to utilizing the system for our internal needs, we sell this valuable service. Winona specializes in performing all our services in a timely manner, and this process is no different. We can even arrange for parts to be stripped and cleaned the same day, so downtime is minimized for our customers.
Advantages of Fluidized Thermal Sand Bed Cleaning:
Fast, reliable, and perfect cleaning

Short cycle time (40-60 min)

High volume cleaning

Safe system

Perfectly controlled temperature, PLC controlled

Low maintenance, long machine life

No deformation of parts

Environmentally friendly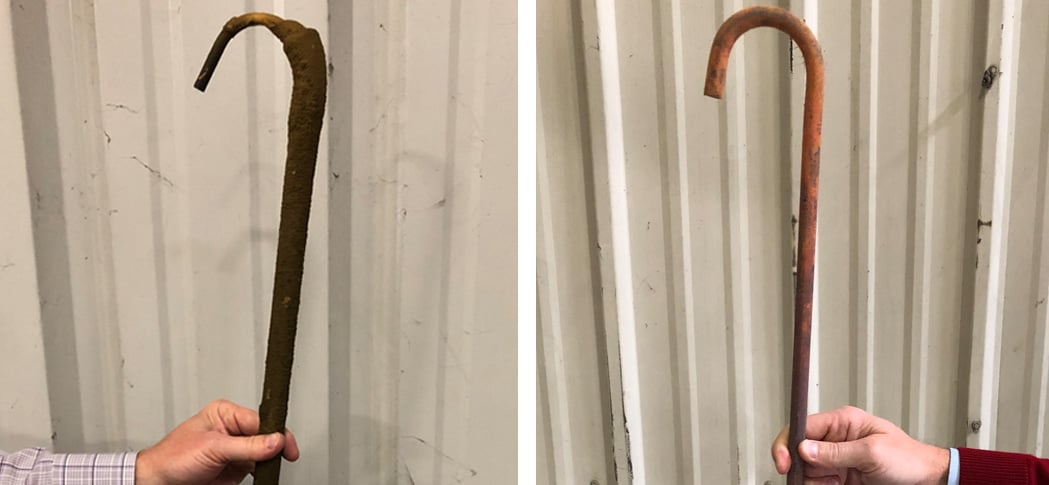 Solving Your Needs
The Dinamec Fluid System offers the solution for all your thermal cleaning needs. Our solutions safely remove all organic substances from metal parts, no matter the industry. From paint, powder coating, and plastic to polyesters, and rubber, we can remove it. A clean and healthy stripping alternative to more traditional methods, the Dinamec technology offers many benefits from optimal results, no abrasive damage to tools or parts, and high operating capacity with low operational costs.
How Does the Process Work?
The fluidized bed reactor contains calibrated sand in a liquid-like state (suspended sand particles). The reactor is heated to a steady temperature in the range of 420–450°C. In this condition, the sand becomes a powerful reactor, in which a fast and complex physiochemical process will evaporate and oxidize any organic material.
Once the sand has reached the optimal temperature, parts needing to be cleaned are submerged in the fluid bed reactor. In the first phase, which takes 10-20 minutes, light organic compounds and binders quickly evaporate due to the intense contact with the hot silica sand. They are extensively oxidized at relatively low temperatures to harmless inert gas.
Remaining heavier hydrocarbons are completely oxidized within the reactor, while the inert portion of the contamination is blown out of the reactor as all organic binders have vanished. During the second phase, a light mechanical cleaning action caused by the bubbling sand will sustain it. After an average of one hour, the two-phase cleaning process is finished: the organic fraction is eliminated, and the inert fraction is blown out of the reactor with the exhaust gases.
Uses For Fluidized Thermal Sand Bed Cleaning:
Paint stripping of hangers, skids, hooks, jigs, grids

Plastic removal of filters, screws, breaker plates

Cleaning of extruder dies, blow molding machine parts

Hot runner manifold cleaning

Removal of rubber, grease, resin, iron casting sand recycling
Contact Winona Powder Coating
Modern coatings and plastic bond very strongly, and traditional cleaning and stripping methods are becoming outdated. They demand costly labor and energy as well as possible health hazards for the operators. These conventional methods often damage or deform parts and can result in water and air pollution.
Today almost every industry is involved with organic substances such as paint, powder coating, plastic, or rubber at some stage of its production process.
Removing plastic or paint coatings from metal parts, finished products, or production components made of metal is a widespread problem. Let Winona be the solution!