Winona Powder Coating offers top quality electrocoat (E-Coat) services serving customers throughout the country. With our new TTX Indexing E-Coat line with 13-Stage Pretreat and Zinc Phosphate, we provide the convenience and flexibility to meet the demanding requirements of today's manufacturing environment. Learn more about our services and E-Coating to decide if it's the right choice for you.
E-Coat Line Capabilities
Part Window – 102" x 48" x 48" – 2,200 lb limit per load bar

500 ft ²

of coverage per load.

13 stage pretreatment with laser scale removal and zinc phosphate

RO water system

15 degree indexing upon part entry into tank to minimize air pocket effects

Cure oven capabilities are 350F to 450F at 45 minutes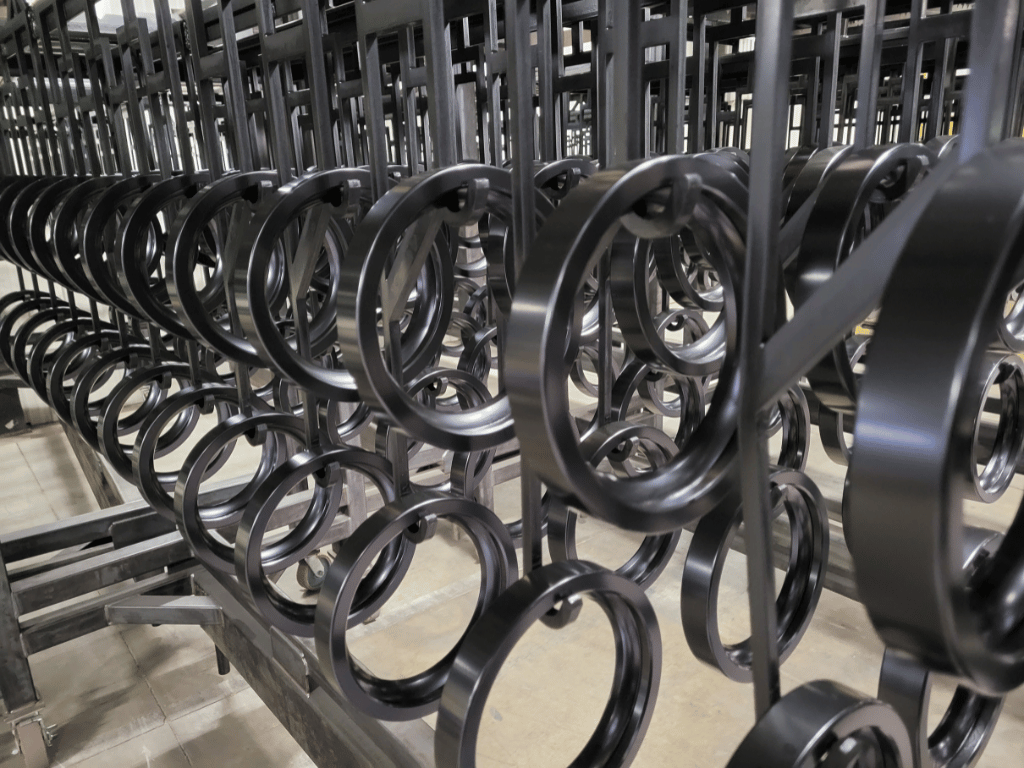 Corrosion and Wear Resistance
Our customers choose electrocoating to provide their products with a durable, long-lasting finish. E-Coat is a technology used to achieve high-quality, low-cost finishes at a level of efficiency and environmental compliance; no other finishing method approaches. The performance advantages and reduced finishing costs have made it a thriving technology that will continue long into the future as new uses and technologies develop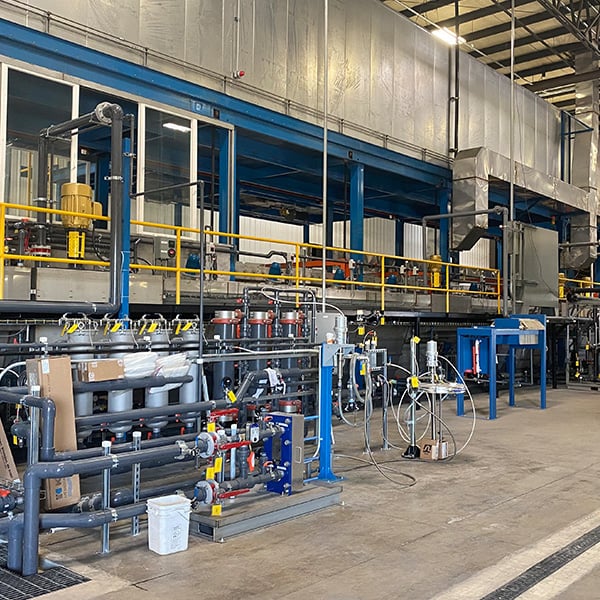 Efficient
Virtually all unused paint is recovered in the electrocoating process. Our line has a three post rinse to remove any residual buildup. The post rinses are then filtered, and any paint collected in the rinse stages is reintroduced into the application bath. Our E-Coat system is automated, the amount of paint applied to a product can be precisely controlled, yielding minimal waste, unlike powder or paint overspray.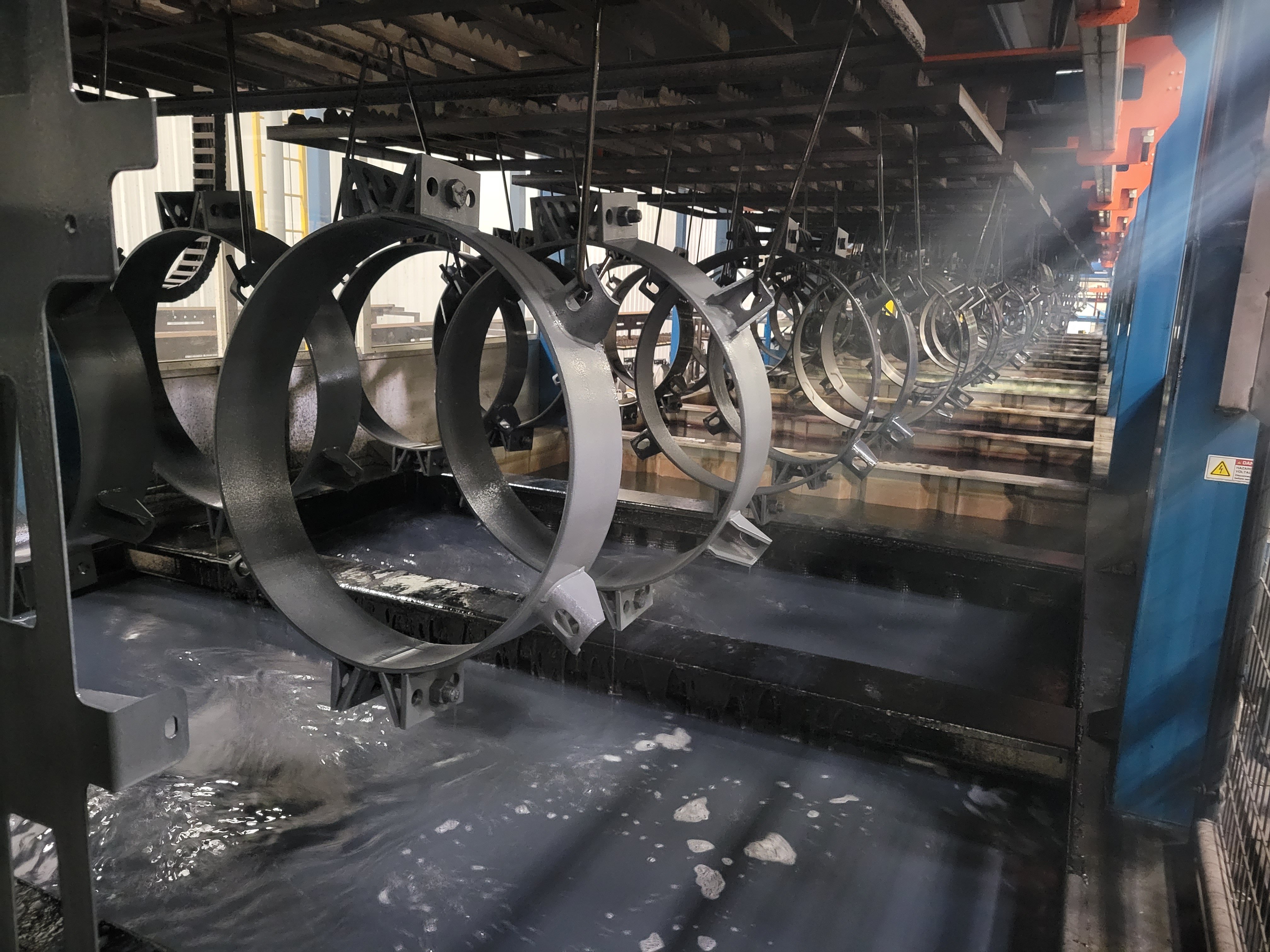 Environmentally Friendly
E-Coating is environmentally friendly because the process produces little to no VOCs (Volatile Organic Compounds), HAPS (Hazardous Air pollutants) and is RoHS, OSHA, and EPA compliant. Environmental advantages include eliminating the need for costly air abatement equipment present with many solvent-based liquid sprays or dip processes. Electrocoating products are free of heavy metals and have low BOD/COD if introduced to waste streams. Products are water-based, thus reducing fire hazards and worker exposure to hazardous materials.
Economical
Electrocoat is usually the lowest-cost finishing application. The keyword is "application." Anytime cost to paint parts is evaluated, customers need to look beyond the material cost per square foot or the cost per gallon. Some of the significant factors that enter into the equation for the application selection include:
Part complexity:

Parts come in all shapes and sizes. E-Coat excels over other technologies in this category because all surfaces receive a consistent film thickness due to the electrical insulating effect as it deposits onto the part.
Production volume:

As manufacturers increase production quantities above 2 million sq.ft. annually per shift, electrocoating becomes a more preferred application method. The dense rack loading achieved with E-Coating allows manufacturers to produce a greater volume of parts.
Repair and maintenance:

There is usually more mechanical equipment associated with E-Coating; however, the labor requirements to maintain a liquid or powder system are generally greater.
Paint material:

Electrocoat is usually the most cost-effective when comparing applied paint materials. This is due to the high transfer efficiency and the self-limiting ability of the electrocoating process.
Capital:

After other cost variables, such as film thickness and labor requirements, are taken into consideration, the E-Coat process produces the cheapest coating on an applied-cost-per-square-foot basis.
The lower total usually drives the choice of electrocoating over other coating technologies like liquid spray and powder coatings. The low total applied cost is achieved in part through a more consistent deposition of paint film on parts (incredibly complex geometries), high transfer efficiencies, and the lower costs associated with labor.
Contact Winona Powder Coating
E-Coating technology has continued to evolve. More industries are choosing electrocoating for its cost-effectiveness, high-efficiency, and versatile technology options. In addition to the auto industry, E-Coating is now prominently used in manufacturing heavy equipment, electrical components such as switchgear, fasteners, and just about any metal product where superior corrosion protection is required.
Winona Powder Coating LLC offers an innovative E-Coating process in the Midwest that is exceptionally effective at preventing corrosion while also providing increased substrate durability. Along with our standard E-Coat process we offer packaging and assembly services. Contact us today to learn more about how E-Coating can benefit you.