About Winona Powder Coating, Inc.
Winona Powder Coating is the largest custom coater in the Northern Indiana/Southern Michigan region. Winona has been in business since 1974 and started powder coating in 1979. We are an ISO 9001 and UL certified coater and meet a wide range of automotive, agricultural and military specifications. We feature the industry-leading Axalta 6100 series e-coat. We are also one of the only companies within our region to offer both powder coating and e-coating services.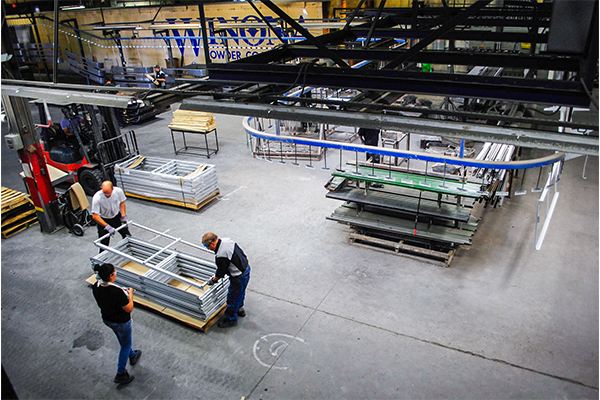 Winona is comprised of two facilities:
Etna Green headquarters location with 167,000 sq. feet, including E-coat
Elkhart location with 50,000 sq. feet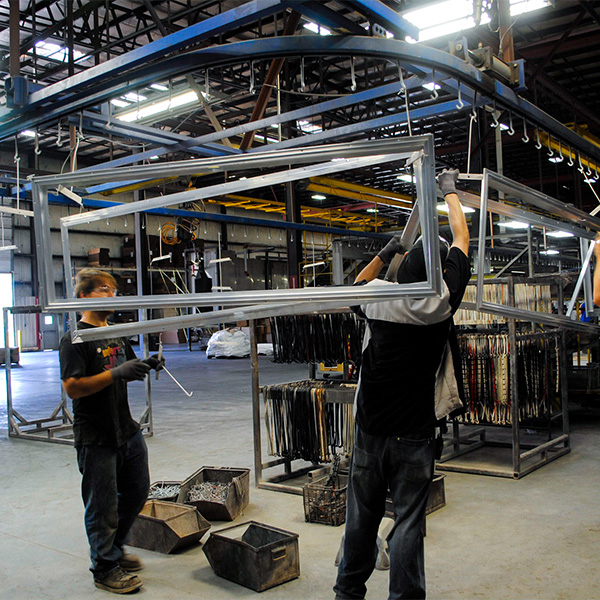 Etna Green Plant
The Etna Green location has two state-of-the-art powder coating lines with 5 stage washers, automatic and manual coating booths, and digitally controlled ovens, all of which are operated using the latest in industrial automation.
The E-Coat line can coat parts up to 102" long by 48" wide by 48" high. Each rack can coat up to 500 square feet of surface area and sustain weights of up to 2,200 lbs. 13 Stage Pretreat with Zinc Phosphate.
Powder Line 1 can coat parts up to 72" high by 32" wide and up to 24' in length. Line 1 has additional wash chemistry to achieve top performance with aluminum and galvanized parts.
Powder Line 2 can coat parts up to 70" high by 38" wide by 24' long. Line 2 was built to accommodate heavy parts and utilizes an I-Beam conveyor system. This line is exceptional at coating cast iron parts.
Large Part Batch line can powder coat parts up to 32' long x 8' wide x 8' tall.
Fluidized Sand Bed stripper can accommodate parts up to 117" long x 56" wide by 61" tall. Total part weight per run is 5,748 lbs with an organic coating load of 62 – 174 lbs.
Packaging and assembly services are available.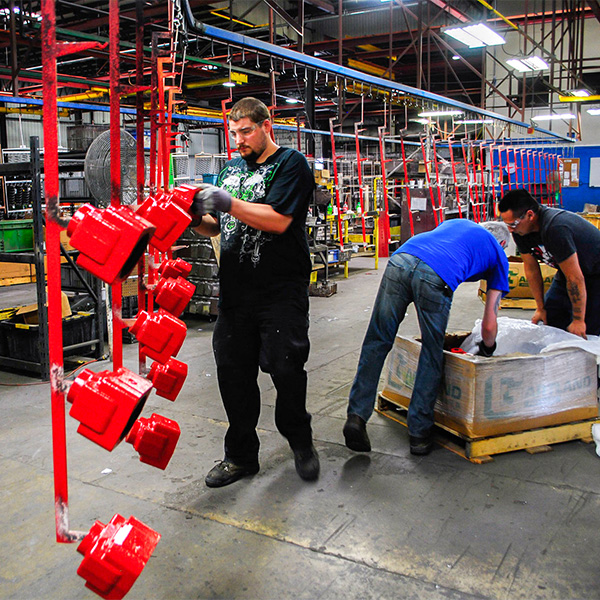 Elkhart Plant
Winona Elkhart plant is a 50,000 square foot facility and focuses on speedy turnaround times. For black and black texture, turnaround times can be as little as 24 hours. The Elkhart facility has two full conveyor lines with 5 stage washers followed by automatic and manual spray booths.
Powder Line 1 and can coat parts up to 68" high by 38" wide by 22' long.
Powder Line 2 can coat parts up to 68" high by 38" wide by 10' long.
Packaging and assembly services are available.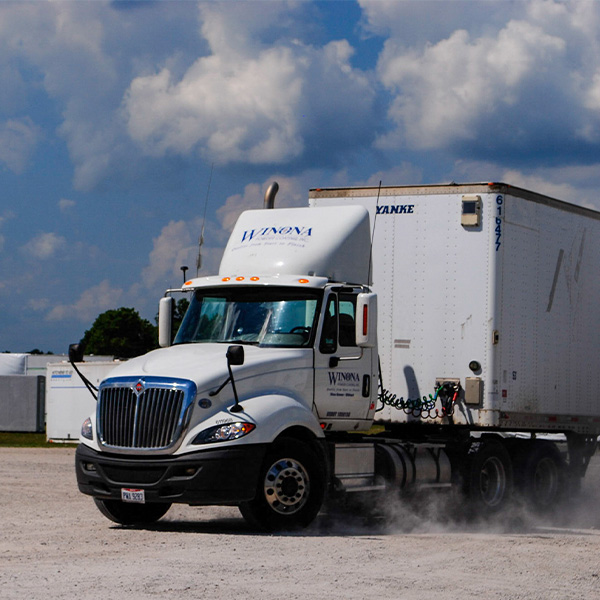 Truck Fleet
Winona has the ability to offer quick turnaround due to our transportation services. Winona Powder Coating has its own fleet of tractors, trailers, and flatbeds to get your coated product where it needs to go.
Contact Winona Powder Coating Inc.
Our commitment to excellent customer service and attention to detail has earned us customer loyalty for decades. Whether you have commercial, industrial, architectural, residential, automotive, or agricultural coating projects, our team is dedicated to delivering high-quality services you can rely on. Your total satisfaction with our service is our top priority. We take pride in our craft and strive to uphold our customers' highest reliability and loyalty standards.
We recommend powder coating since it outperforms conventional paint options in a variety of ways. Powder coating can cut down on finishing time, increase your finish quality, and open up a broader range of finishing options. It is a durable topcoat that will stand up against blazing sun and pounding rain. Our customers appreciate a finish that is wear and weather-resistant but also easy to maintain. In addition to that, it is more environmentally conscious than conventional options because it doesn't use harsh chemical solvents.
We are proud to serve Northern Indiana and Southern Michigan with our powder coating expertise. Contact us today to request a quote.